Here at Extrevity, we have mixed local know-how with professional experience to give you the ultimate surf guide to Kuta. This guide will explain everything you need to know in a fun, simple and relevant way. From beaches and boards to swells and tides, we have got it covered.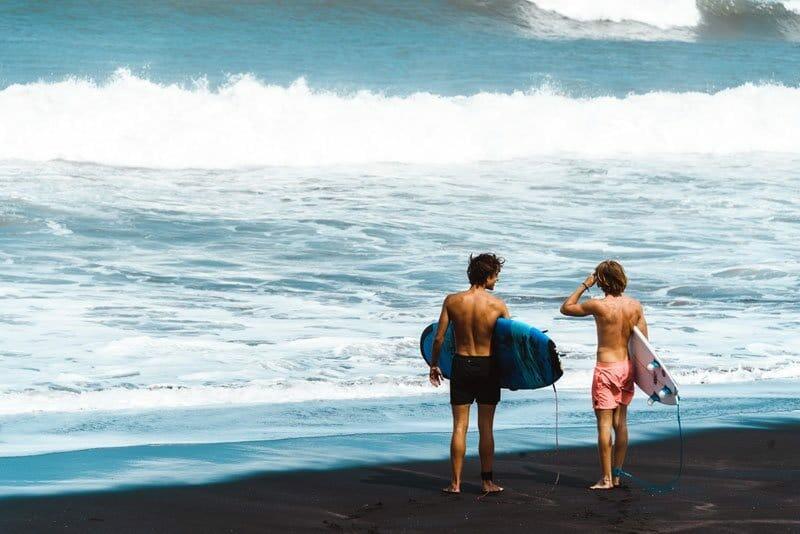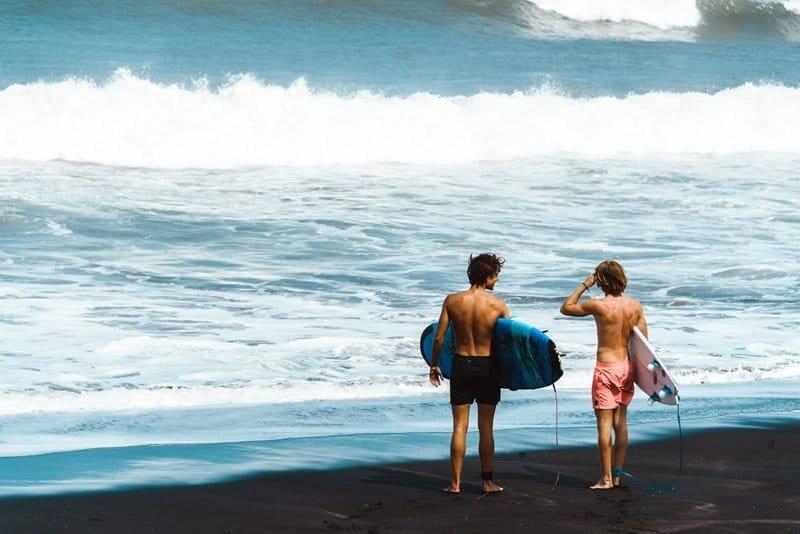 Kuta Beach is one of the most iconic beaches in Indonesia. Kuta is known for its perfect sunsets, markets and, of course, waves. Probably the most popular wave in Bali, the beach break at produces small, manageable waves. Kuta Beach has helped thousands of first-time surfers catch their first wave.
The regular waves are small, yet powerful enough to carry beginners in for a ride, so the break is seen as a perfect learning spot. However, the swells can grow in the afternoon and Kuta has been known to barrel.
The main surf spots here are Kuta Beach, Airport Left, Airport Right, Legian Beach, and Kuta Beach Break.
Best Time of year to visit
Bali is best known for its world-class surf breaks as it is in a perfect location to receive swells from storms in the Indian Ocean. The island has two seasons, rainy and dry. During the dry season, between April and September/October, you will find the most waves and best weather. The easterly winds blowing allow the entire west coast of Bali to produce surf spots, Kuta beach is one of those.
Before we get into the best time of year to visit, it's important to know that wind conditions are really important for good waves. Light, offshore winds are ideal. Offshore meaning blowing out to the ocean. Onshore meaning the opposite, towards the beach.
March-May
The Nyepi and Ogoh Ogoh holidays mark the end of the rainy season in Bali. The celebrations throughout the island mean good waves are on their way, but not just yet. There are still winds blowing west, which means onshore winds at Kuta. However, there can be mid to large swells coming around this time of year, so waves can be good if the wind doesn't play up.
June-August
Dry season is prime time for waves in Kuta. Waves are consistent, the winds are offshore and the swells just keep rolling in. Kuta is in prime position to receive swells from the Indian ocean. The consistent waves mean this time of year is extremely popular for surfers to visit Kuta beach. The beach is also very popular with beginners and surf schools. If you are looking to learn how to surf, this may be the beach for you. If you are an expert, I would look elsewhere for faster and less crowded waves.
September-November
This period is the winding down of the dry season. The crowds are less busy but the waves are still consistent. Storms from the Indian ocean mean the swells coming in tend to be large and powerful. The beginning of the rainy season (October) means a change in the winds and less consistent waves.
December-February
The height of the rainy season means onshore winds and sporadic swells. The waves tend to be smaller, and the swell tends to be less powerful. Even when there are waves that are rideable, the wind tends to mess things up. This is not to say Kuta is unsurfable during the rainy season, there still can be good days.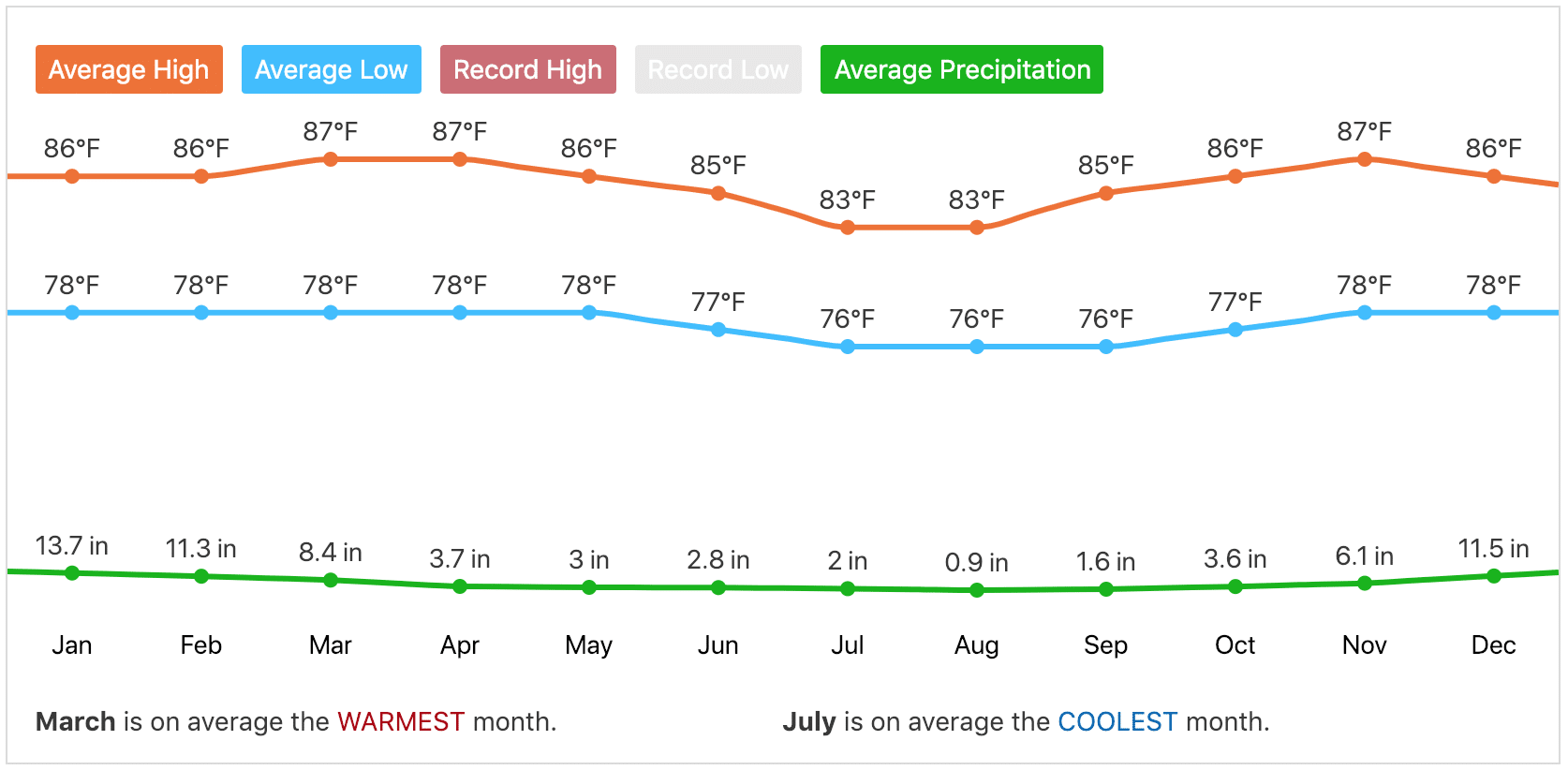 Bali is a year-round holiday destination. The tropical paradise is visited by millions of tourists a year. During the dry season, the climate is dry (obviously) and the sun is shining. Temperatures average 20-30 celsius. However, temperatures rise during the rainy season (October – April). The humidity is noticeably higher during this period and rainfall is regular.
Wind is a crucial element when it comes to surfing. The ideal type of wind for waves is offshore, meaning the wind is blowing from inland out towards the ocean. Westerly winds blowing offshore winds grace Kuta during the dry season between May-October. During the rainy season, the winds blow towards the east, meaning offshore winds will be on the east coast instead.
The Indian ocean constantly pumps out swells that hit Kuta year round. You are pretty much guaranteed waves whatever time of year you go. Along the west and south coast of Bali, there are waves, as the island is in the right location to receive swells. However, there are periods in which the swells can be small and inconsistent.
The topography of the whole island is quite varied, as there are volcanoes, cliffs, and lowlands all in a small area. However, the topography of Kuta and surrounding areas is fairly simple. It is pretty flat, especially when you compare into places like Uluwatu which is very hilly. If you stay in the center of Canggu you won't find any hills when traveling to Batu Belong, Echo beach or Brewara.
The swells in Kuta are fairly consistent. The West coast of Bali is perfectly placed to receive year-round swells from the storms in the Indian ocean. For wind conditions, the best waves are usually mid to high tide, until mid-morning. Airport left is two peaks that can join up to give a longer ride on certain cleaner days and at high tide.
Head to Airport Left for an easy wave and consistent swells. Longboarders tend to prefer the to other waves nearby. Airport Left is two peaks that can join up to give a longer ride on certain cleaner days and at high tide. Airport Right is good with a south-west swell at high tide, turning into a bit of a beast.
Most of the waves around Kuta are dominated by surfers. If you hire a boat to take you to Airport Left or Airport Right, make sure to book the return journey! For bodyboarders, Kuta reef seems to be the most popular choice. On bigger days the wave can get ledgy and dumpy and is very fast. Bodyboarders can also be found at Kuta beach break.
High tide is a good time to go to either Airport Left or Airport Right, the wave is shallow on the reef otherwise. Kuta reef is also best at high tide, otherwise fairly dangerous with the reef the main obstacle here. Kuta beach is popular at all times. Mid to high tide with south-westerly winds tend to be the best conditions to surf it.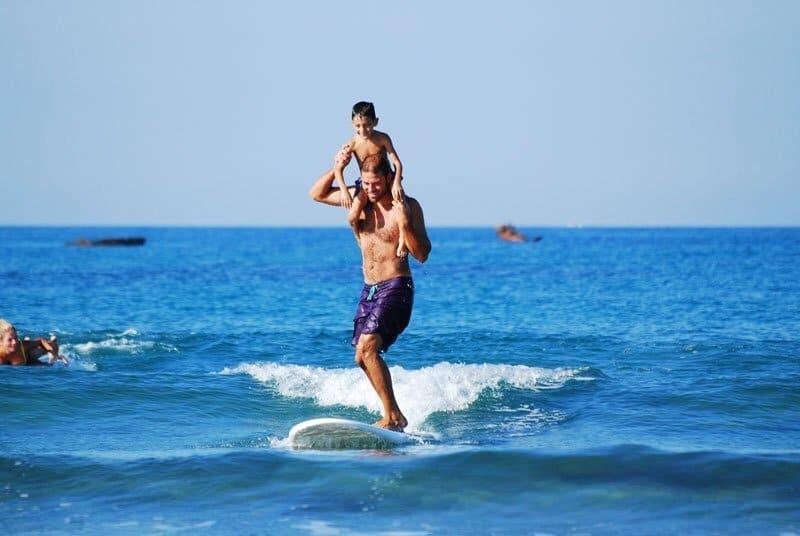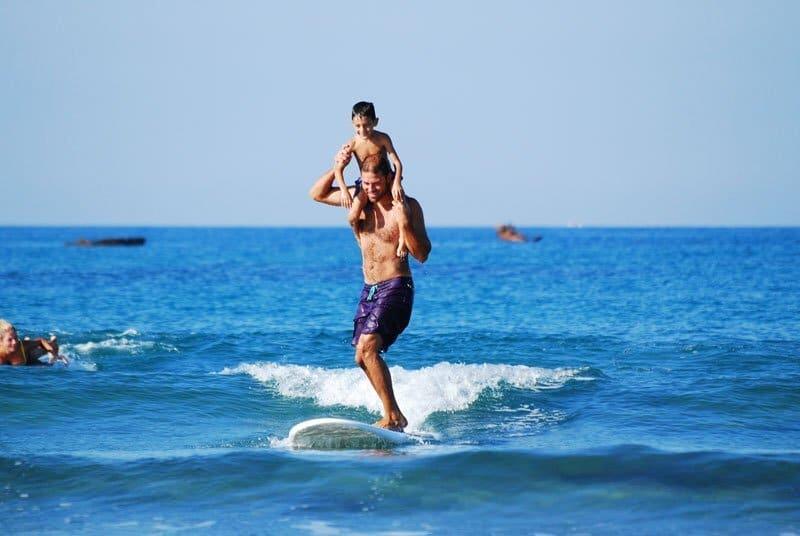 Learning to surf in Kuta is ideal. For first time surfers, the waves are generally small yet powerful. The break is close to shore yet deep enough so the paddle out is quick. The current is minimal and manageable so nobody is drifting off. Hundreds of board operators along the beach will help you choose the perfect board.
Beginners –
Kuta Beach is the perfect beach to learn to surf. This beach was made for beginners. The swells come in at a reasonable size. Kuta pumps out consistent waves usually between 1-5ft. The break is very close to shore yet deep enough to wipe out. Surf schools and lessons line the entire beach so the choice is numerous, and learning to surf in Kuta is ideal.
Intermediate –
On bigger days Kuta beach can be a fast wave. Out the back sees pretty good waves rolling in throughout the day. Although it is normally extremely busy, it is possible to see a divide between accomplished surfers and beginners. The Kuta surf lessons and first-timers tend to stay in the shallow water with the whitewater. Airport left and right, along with Kuta reef break are definitely more popular with intermediate crowds as it is quieter, larger and generally a better surfing experience.
Advanced –
Unless the swells are large, Kuta beach tends to serve beginners and intermediates. However, if you are an advanced surfer and want to surf in Kuta, then look to Airport left, right and the Kuta reef break. You will need to hire a boat to take you to the airport waves, but once you get there it is a small crowd with consistent waves.
Surfing Kuta beach is great for people trying out surfing for the first time. The many surf schools in Kuta will show you the local area, and take you to different waves.
If you are beginners, the Kuta surf camps tend to choose Kuta beach as it is close to shore, the tides are predictable and the currents aren't too strong.
Airport Left is the hardest and fastest wave in the nearby area. It is a shortwave usually, but on better days it can join up with another peak to give a longer ride. The waves can grow bigger on some cleaner days and is surfed by intermediates and expert surfers. The line up is less crowded as a boat ride is required to reach the wave.
Kuta Reef, which sits 700m offshore, is a fun wave for those looking surf away from the beach. It is less crowded and can turn ledgey on bigger days, with 8-10ft faces a common occurrence.
Kuta Surf Lessons & Rentals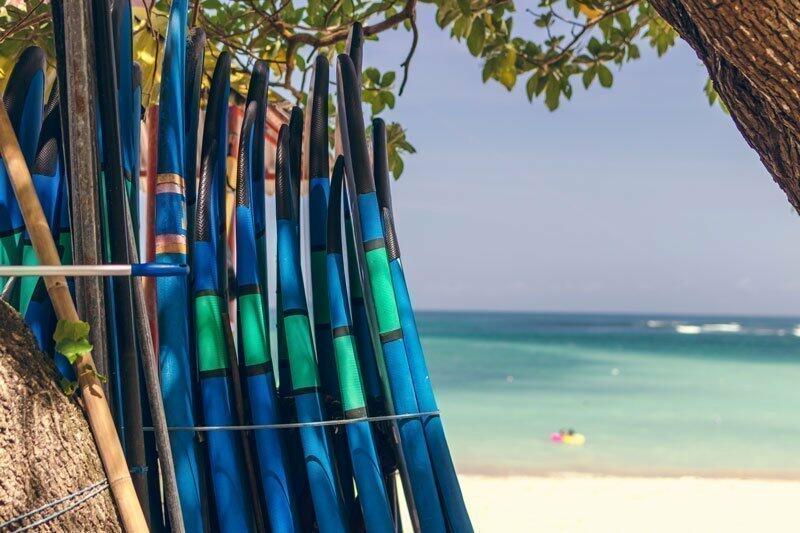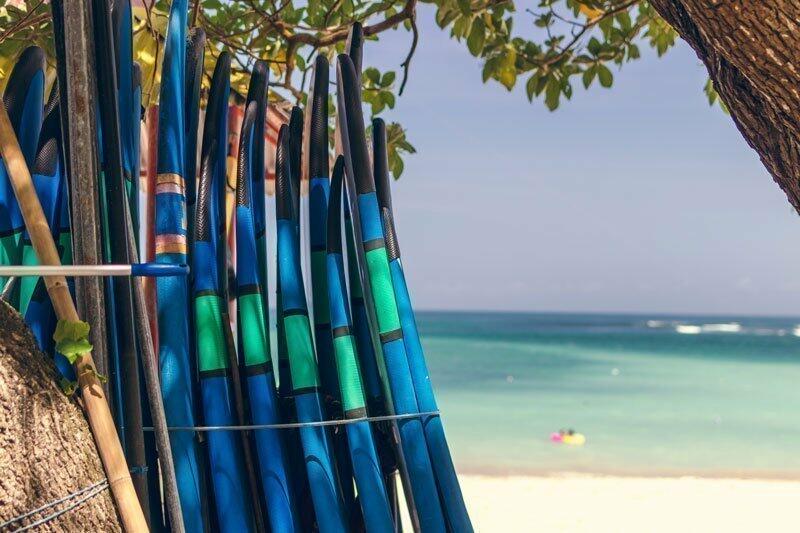 Board Rentals in Kuta
It is impossible to miss the hundreds of board rental shops, shacks and huts along Kuta beach. Here, a 'shop' means 10-15 boards against a palm tree and an instructor sitting next to them, no buildings required.
The board on offer vary drastically. For the beginners, an 11ft foamie catches the small waves perfectly. Longboarders have plenty of choices of logs and single fins that aren't amazing but will do a job. Shortboard lovers may be slightly disappointed as the general conditions of the shortboards here seem outdated and over-used.
Usually, an hour's surfboard rental in Kuta will cost you anywhere in between 50,000 – 100,000 IDR ($4 – $7 USD).
Lessons
If you come to Bali, then the best place to learn to surf is Kuta. It may not be an authentic representation of Bali anymore, but the waves are ideal for first-time surfers. Booking a lesson is a great, safe way to learn this new sport.
During your first lesson, an instructor will talk to you about safety in the water. They will take you through, step by step, what it takes to ride a wave. Once they think you are ready, you will head into the water with them, and they will help you ride your first wave.
A lot of operators that offer surf lessons have the guarantee that you will stand up on your first lesson.
Day Trips
The stretch of coast surrounding Kuta is a surfer's dream. Depending on your level, there are numerous surf breaks in the local area to Kuta that are less than an hours drive away.
If you head to north Kuta, you will pass Seminyak, Canggu, Echo beach, Berewa, Batu Bolong, and Kendungu. Heading south from Kuta, you will find yourself in Uluwatu, with probably the best waves in the whole of Bali.
If you are a member of a camp or retreat, the Kuta surf camp will decide what level you are, and then take you on day trips accordingly. For the more advanced surfers, you can always hire a driver and head to different spots yourself.
If you want to be more independent, hire a scooter with a surf rack, pack your board up and go yourself.
Surf Camps
Pro Surf School
Pro Surf School offers a surf camp on Kuta beach. This being its main selling point of a nice hostel vibe right next to a beach with several miles worth of Kuta's surf breaks along it. They pride themselves on their service and customer experience pro surf camps cater for all levels.
Pro Surf School have surf camps in Kuta for five different types of surfers, from ability level 1 – 5 (1 = Beginner to 5 = Advanced).
Odyssey Surf School
Odyssey has been helping people surf since 2003. The company prides itself on safety, affordability and fun. All their instructors are fluent in both Japanese and English and have been credited by the Australian Academy of Surfing Instructors.
Odyssey Surf School have a 'Stand-up Guarantee' policy for first-time surfers in order for you to get hooked. It seems as though Odyssey are catered for beginners and first-time surfers, thus maybe advanced surfers should look elsewhere.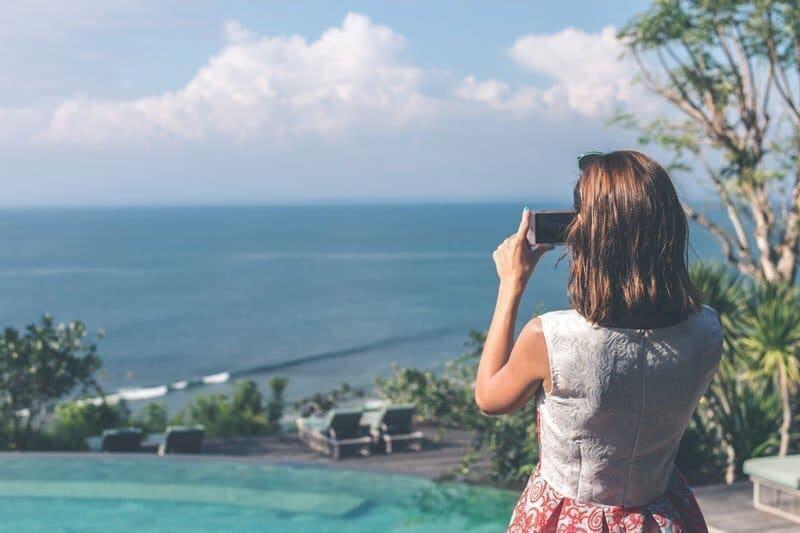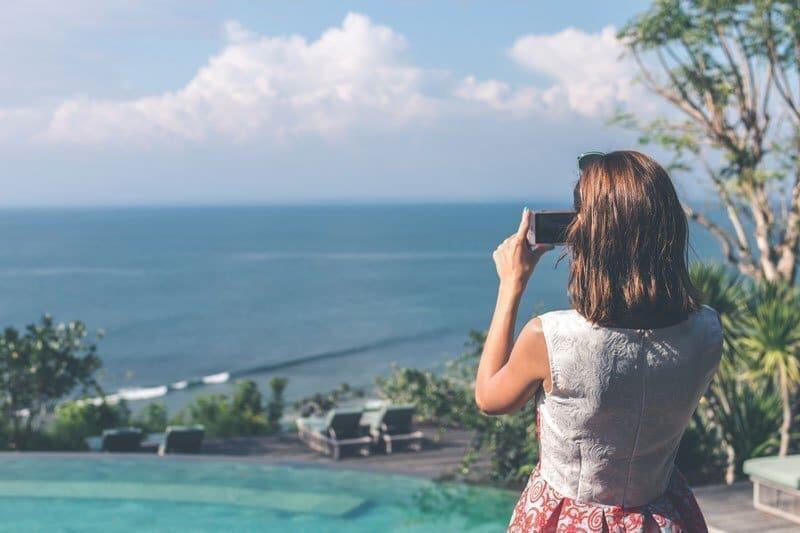 The attractive thing about surf accommodation is that they are run by surfers, for surfers. The staff will have everything you will need for your ultimate surf tip in Bali.
Being a popular surf destination, Canggu has multiple guest houses, hostels, and hotels that provide accommodation for surfers. These properties usually provide surf coaching and lessons, surf trips to break around Bali and high-quality boards to rent. It is also possible to stay in accommodation that is not centered around surfing.
Couch Surfing
Couch surfing connects fellow surfers in Kuta with a spare bed or couch that you can crash on. If you are considering a solo trip to Kuta it would be a great way to meet like-minded people. It is very likely that you will meet people who you can surf Kuta's beaches with.
Hostels
Kuta has numerous hostels and choices for accommodation. However, not all of them are directly catered for those looking to surf in Kut, so we have taken the best deals and offers around and put them here for you!
Pro Surf Camp
The company has a hostel right on Kuta beach that caters to anyone, regardless of surfing, the accommodation is not directly linked with the surf lessons in Kuta or instructors, so if you are just there to surf yourself, this may be the place for you.
Cara Cara Inn
This is not strictly a surf hostel, but it is cheap, clean and sociable and the location is ideal for surfers. It is walking distance to Kuta surf spots and the staff is extremely helpful. It may be a little lively and noisy during the night, making it hard for those looking to wake up to surf at Kuta during sunrise. You have been warned.
Kuta Beach Hostel
A great hostel right in the heart of the tourist district of Kuta. it is extremely close to the beach and although sociable, it is not a party hostel. If you are looking for something friendly. Cheap and well located, this may be the place for you.
Airbnb
Airbnb is a great option for those travelers who want to feel like a local. The choice of apartments or villas in the area are numerous. Depending on budget you can find some amazing deals in the area with surf racks for your boards and outside areas with swimming pools and sun loungers.
Hotels
Kuta is full of hotels, many of the more expensive ones are close to the beach with an ocean view. Close to the beach means close to the waves. For the surf obsessed who don't mind spending a lot of accommodation, this may be the option for you.
Luxury Resorts
As Kuta is the main tourist hot spot on the island of Bali, luxury resorts are numerous in the area. If you are looking for luxury, then you have a lot of choice in and around Kuta. These resorts will usually come in the form of private villas inside the complex, but with hotel facilities included.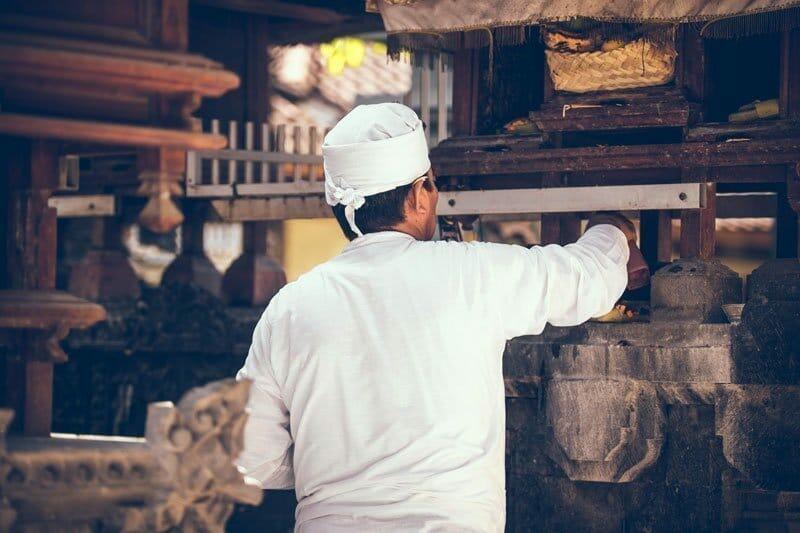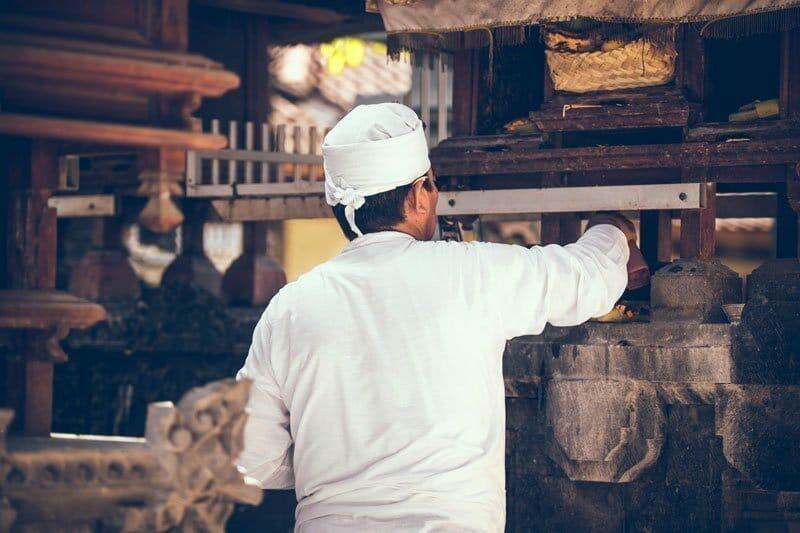 Cafe's
Starbucks. This place needs no introduction, but the coffee is consistent and it is a popular coffee spot in Kuta. It is very centrally located and they have a good bakery section to fuel you post or pre-surf in Kuta!
Street Food
Kuta may be very touristy, but it has still managed to retain a street food element to it. Amongst the Hard Rock Cafe and Bubba Gump Shrimp, you can still find locals of scooters selling local street food like fish curry cones, bakso and corn on the cob.
Right across the street from the beach just up from the Hard Rock, you will find a street food market with over ten different stalls around the edge and benches in the middle. This is a great way to experience local food, and it is some of the cheapest bites in the whole city!
Quick Bites & Fast Food
If you have had a particularly grueling surf at Kuta reef, then sometimes fast food is the answer. Kuta has the biggest selection of fast food in the whole of Bali. The city is the center of tourism on the island, and chains such as McDonald's, Burger King, and Subway are dotted around the city.
Restaurants
If surfing in Kuta has sapped all of your energy away, then the only thing left to do is refuel. Kuta is a hotbed of restaurants and eateries specifically designed for western tourists. Some may think it has lost its authentic Balinese touch with mass tourism. However, if you are starving from a three-hour surf session, I doubt authenticity will matter much.
Depending on your budget, Kuta can provide many different options for your pre or post-surf meal.
The Balcony Restaurant
Nice view of the beach, a little expensive but they have some good deals on at lunch. Also, if you are considering the second session of the day then it's a great place to check to surf whilst you eat (in case the waves pick up again and you have a few more waves left in you).
Crumb and Coaster
Perfect cafe/restaurant that serves good breakfast and brunch. These meals will fill you up for your surf and send you out to the waves with plenty of energy. The atmoshere is quiet and understated and the staff are very friendly and have no problem with surfers or digital nomads working all day inside the cafe.
Benih Cafe
A classic cafe style restaurant serving local and western favorites like burgers, pizzas, and pastries. They also have some good vegetarian options like veggie lasagne and falafel wraps. You can see your bike from the cafe, so you can check on your board outside at all times
Fat Tony's
Classic burger style joint that is unpretentious and fairly cheap. It is located nice and close to the beach so would be a short walk to the waves afterward or before. depending on your preference!
Fine Dining
Ma Joly
An upmarket restaurant in Kuta that specializes in local cuisine in a fine dining atmosphere. A great introduction to Balinese food if you have not tried it before. It is a little expensive and upmarket but is highly regarded for good quality local cuisine.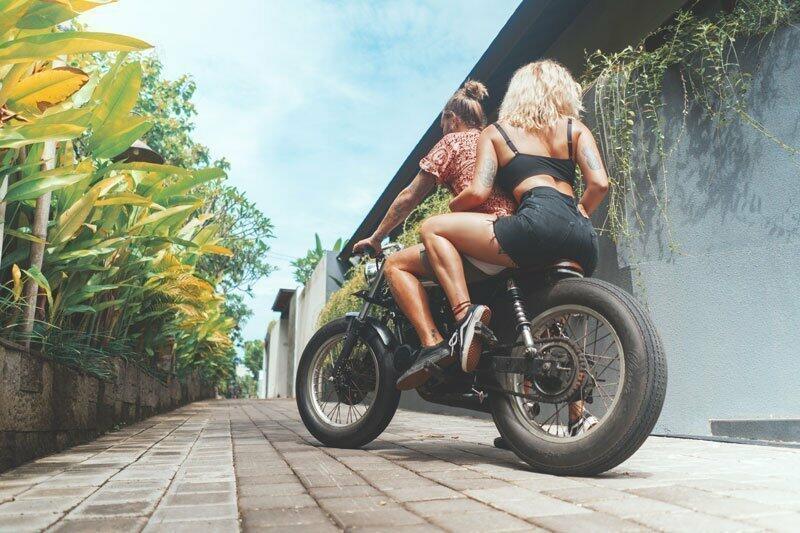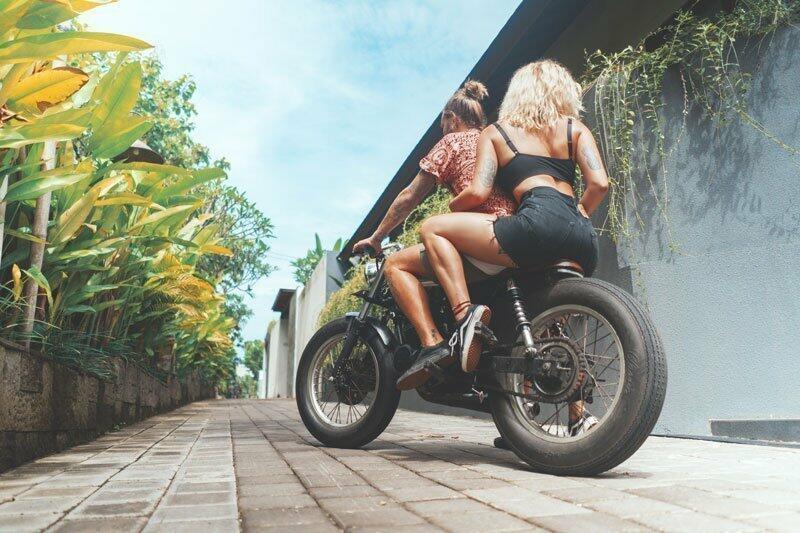 How to Get There
If you are staying in Kuta and coming directly from the airport, you will be pleased to hear it is very close. The city is a 20 minutes drive (depending on traffic) from Denpasar Airport. Many hotels, hostels, and guesthouses in Kuta will offer Airport transfer for a small fee.
Car Rental
Serious surfers will bring their boards with them. If you manage to get them to Bali undamaged then a car is the safest and best option to for your boards. There are plenty of car rentals companies at the airport. They even offer surf racks and straps to make sure your boards don't fly off!
Try out the following car rental companies in Bali:
BMC Bali Matic Car Rental
Kuta Car Rent 2
Ride Sharing
If you are coming with a big group of friends, or know of friends who are also in Bali on a surf trip, then you could arrange to ride share with them. As rental cars in Bali are predominantly minivans, this means a lot of excess space for two people, and perfect for a four-five person trip.
Ride sharing is a great way for people to save money and help the environment and Bali's traffic through less cars on the road. The longer you spend in a place, the more people you meet, thus you may meet people with cars who are planning a similar route that you are hoping to go on.
Public Transportation
Bemos, a type of minivan used as public transport, is used in Bali but is not very popular.
Public transportation in and around Kuta and in Bali, in general, is not really used by surfers and tourists. Kuta and Bali is a place in which transport is predominantly based around motorbike taxis or blue bird taxi cars, although be careful of fake bluebird taxis and always ask for the meter to be turned on so you can see it.
Scooters (Motorbikes)
Motorbikes are the preferred method of transport in Kuta. The city is a fairly small place and scooter hire is very cheap, so the easiest option is to hire one for your whole trip and give it back at the end, just before heading off to the airport.
Parking
Driving through the streets of Kuta would give you the impression that the entire city is full to the brim of cars, without much space for them to park. Parking is scarce in the central zones of the city.
If you have rented a car for your surf trip, it is probably a minivan of some sort, so parking in Kuta may be tricky. The car parks are underground or in unused lots, finding them may be the hard part.
Once you do, the price is extremely cheap, about $0.60 for an undisclosed period of time.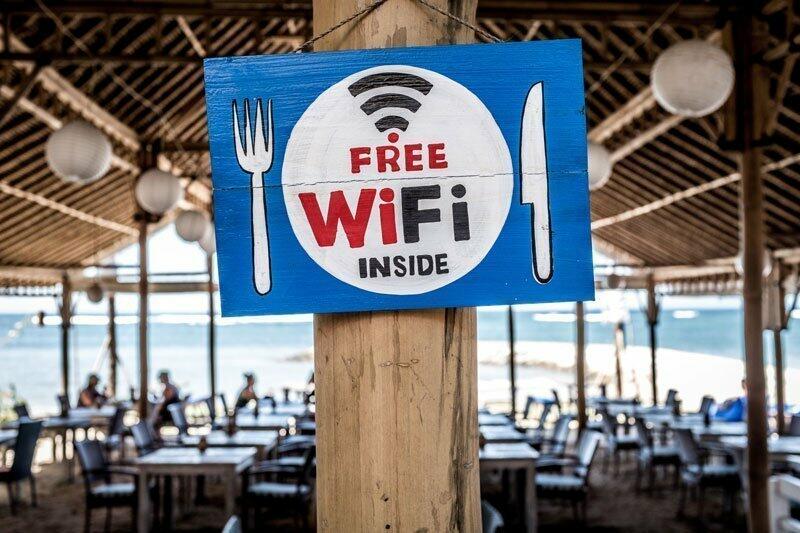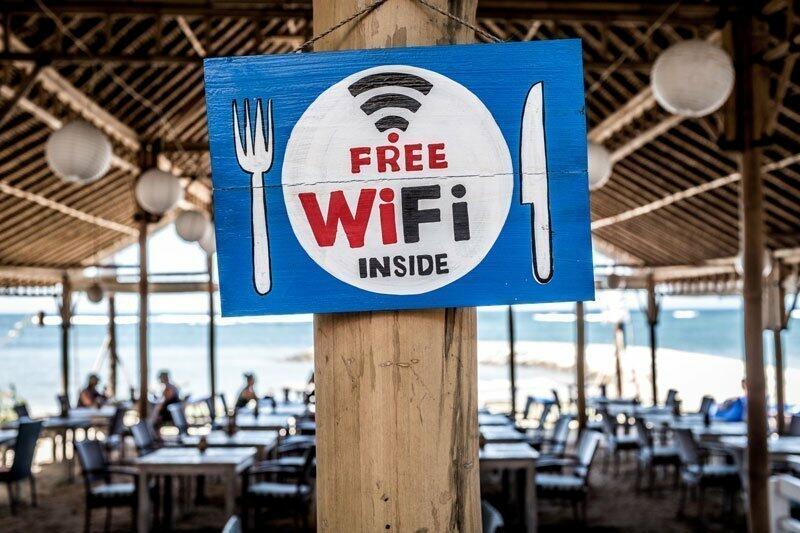 Co-Working Offices
Coworking Legian
A modern, relaxed coworking space that is less office, more hostel in its vibe and atmosphere. It seems a sociable workspace in which people collaborate and discuss ideas. It tries hard to shed the image of a stiff and awkward coworking office, with bean bags, warm lighting, and a nice pool.
Legian is extremely close to Kuta less than a 10-minute drive away, so it is easily commutable and also may be nice to escape the hustle and bustle of central Kuta.
If you are thinking about the Legian workspace, make sure to rent a scooter with a board rack, that way you can bring both your work and your board out for the day, just in case!
Internet Cafes (FREE WiFi)
Bemo Corner Coffee Shop
A nice little cafe that has strong WiFi, good coffee, and quiet overhead music. These three things add up to a perfect cafe in which to do some work! It is on a busy street but is quiet inside, cozy and friendly. It gets busy during lunchtime so go early to get yourself a seat or table.
Bene Lane Cafe
Great for before or after a surf in Kuta. It is perfect for remote workers and digital nomads. The WiFi is good, and the staff doesn't mind you staying all day on your laptop. The highlight is the lemon drizzle cake, make sure to get a slice.
Cafe Dijon
If you are surfing in Kuta but also want a get work done, Cafe Dijon may be for you. It's a really nice french style cafe in Kuta that has strong WiFi and a relaxing atmosphere. Perfect for a post surf drink or catch up with friends. The pastries are really good, so is the coffee.
Average Internet Speed
Bali is known for strong internet and good connection. It has a growing startup and entrepreneurial tech scene. The wifi connection is good enough to support lots of businesses, cafes and digital nomads, so this is not an issue to worry about.
However, sometimes during the rainy season, the storms and downpours can cause power cuts. For this reason, be prepared and buy a sim card just in case.
SIM Card Internet Options
SIM cards are a great way to ensure yourself internet on the island. Power cuts can happen in Bali, which means the WiFi going down. When that happens the perfect back up is a good SIM card. They are sold at the airport for a reasonable price, you are able to get about 10GB of data for about $7 USD.